Originally from PCA Magazine. Original story can be found here: https://premiumcigars.org/news/two-generations-one-vision-serino-cigars-branches-out/
Larry Wagner | July 1, 2020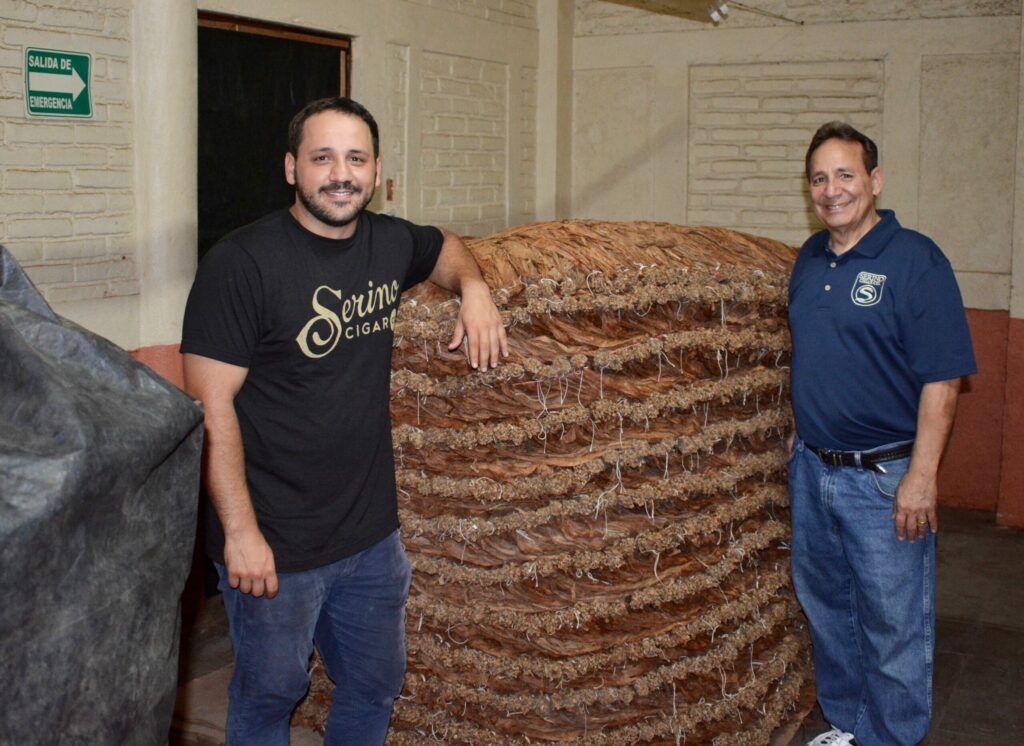 Tony Serino was not born into a cigar producing family. He grew up in Boston, where his father owned an Italian frozen food company. He didn't attend college, or even a regular high school. He went to trade school, where he learned carpentry, plumbing and auto and electrical repair. He was not a prolific reader or versed in foreign languages, but he recalls: "I was the type of person with a lot of common sense. My father raised us to have a really good work ethic."
Serino also had a natural facility for sales and marketing. After being injured in a motorcycle accident in the late '70s, he moved to South Florida, took the small settlement he received, and purchased a TV store, which he soon converted into a thriving video rental business. "We would take those big video cameras to the movie theater, then sell those movies for $75 each. And I was selling 5,000 a month!"
What would become a booming chain of five stores and several franchises was noticed by the executives at Blockbuster Video, at the time owned by mega-entrepreneur Wayne Huizenga, who founded Waste Management and AutoNation, and owned or co-owned The MLB Florida Marlins, The NFL Miami Dolphins, the NHL Florida Panthers, as well as Blockbuster Music and several Hyatt and Radisson hotels in South Florida. Huizenga and his team wanted to bring Serino on board.
Serino sold the video stores and formed a new company providing marketing consultation services for Blockbuster: "I didn't work for them. I started my own company, National Video Marketing, and they hired me to do all their grand openings, for all their businesses, and to come up with ideas for renting more videos."
Some of Huizenga's ventures thrived while others went bust, and he eventually decided to retire, putting Serino out of work. He had been well paid, had saved some money and was looking for his next venture. It was now the 1990s, and one of his former colleagues suggested they take advantage of the ongoing cigar boom, using their Blockbuster marketing experience to sell their own brand of cigars. Serino readily admits the transition had its bumps.
"It's really easy marketing something when you have Wayne's money behind you. Try doing it yourself. I got humbled real quick. The first couple of years were terrible. I realized the people in the cigar industry knew what they were doing. It was hard to break into a new market."
At the beginning of his nascent cigar business, in 1994 and 1995, Serino was primarily selling cigars manufactured locally in Miami and some imported from Honduras. While sales were spotty, and mostly to consumers, Serino persevered until he eventually landed a gig supplying cigars for promotional humidors, distributed to businesses throughout greater Miami. He recalls how things got started: "They would place humidors in stores, and they were buying cigars from me to fill them. I was making cigars for that company, it was called El Supremo Cigars. And that kept me busy for two or three years." With his foot in the door, he began to seek his own lines, eventually making his way to the Dominican Republic.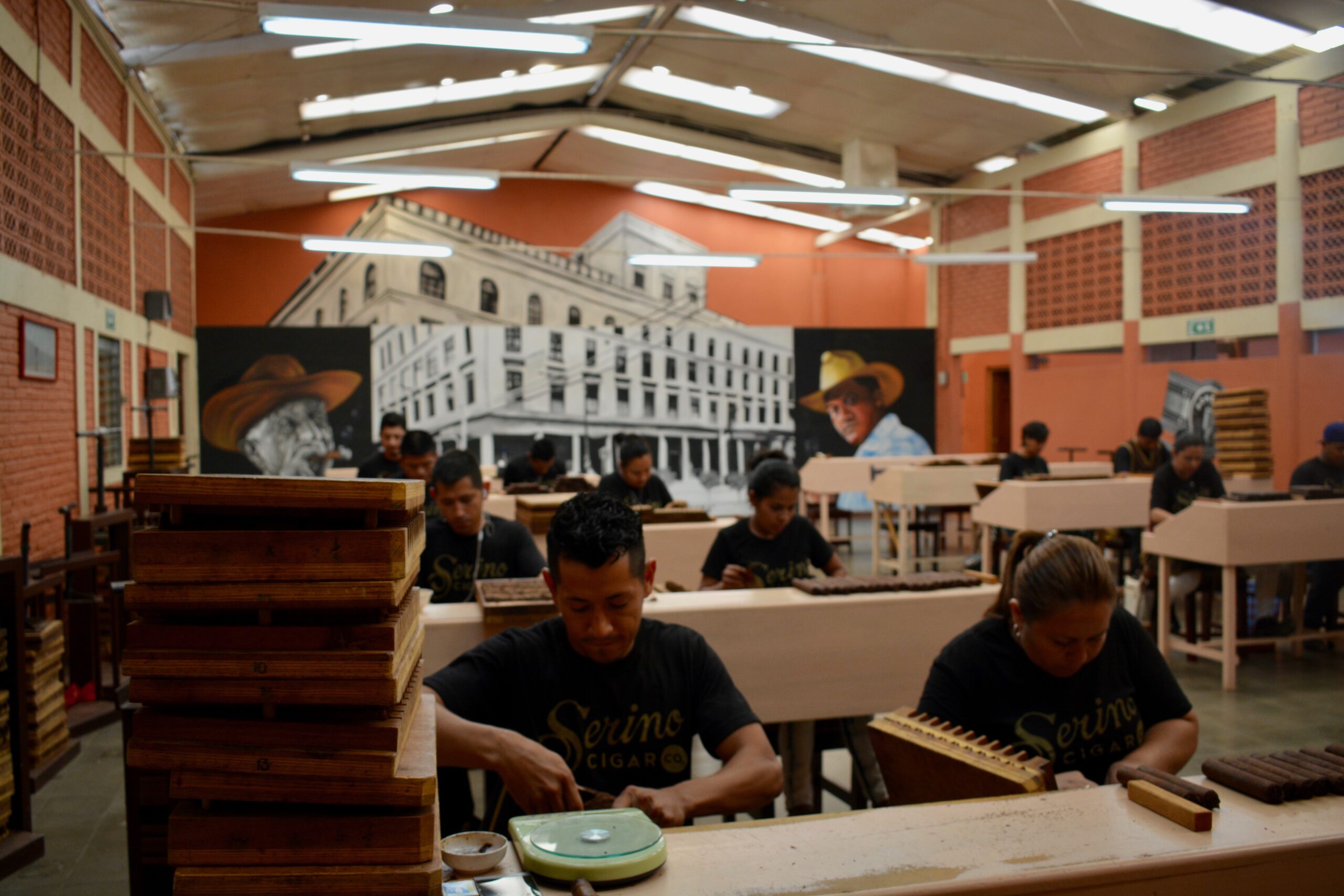 "The first person I came in contact with in the Dominican Republic was Sergio Cruz from Tabacalera Cibao, and we've been partners now for over 20 years. Then I met Maurice (Koks), from Intercigar, because I was distributing La Caya cigars and Maurice was working with them at the time. He's one of the nicest guys you'd ever want to meet, and he makes great cigars. And he's highly intelligent, speaks eight languages."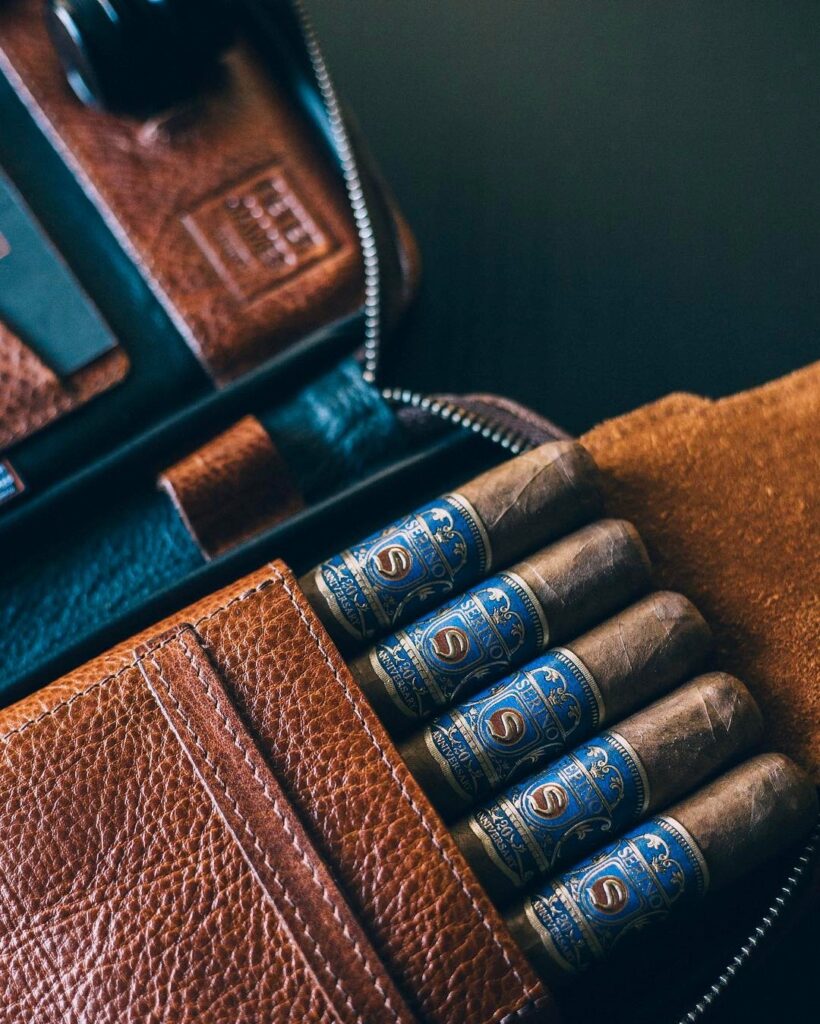 From those two manufacturers, Serino went on to build up a portfolio of value-priced, handmade cigars, primarily marketed in bundles. Through his importing and distributing company, APS Distributors, Serino offers bundles of 20 cigars from the Dominican Republic and Nicaragua, in a wide variety of shapes, blends and wrapper leaves, ranging from 1 to 2 dollars wholesale per cigar. His catalog currently features 24 different types of bundles, in addition to three boxed, premium brands, a line of Corona size cigars in 16 flavors, and an "It's a Boy/It's a Girl" box of 25. Nearly every cigar in the catalog is available for private label, offering retailers the exclusivity of a premium house blend cigar to sell at their own established retail price.
APS has grown into the industry's leading seller of premium bundles, in addition to importing cigars for a number of major brands and distributors. APS fills out all the paperwork and pays all the taxes on every brand they import, and does the fulfillment for many of the better-known companies. And yet, with all of that importing and distributing, Serino had the desire to move toward branding his own lines of cigars. That's where the next generation became involved.
Carson Serino, Tony's son, was raised in South Florida and graduated from Florida State University with two degrees in business. Carson spent his formative years in the Serinos' retail store, waiting on customers and learning the business from his father and the many sales representatives who called. "I grew up in cigar shops—my whole life," says Carson. "It's been a big part of my life, and something I wanted to do when I graduated from college."
Carson also faced some obstacles breaking into the world of business. He planned to use his business degrees to go into branding at an advertising firm, but he says, " I took some internships and found that, as a young person coming in with all these ideas, you don't have control and you don't have that much input."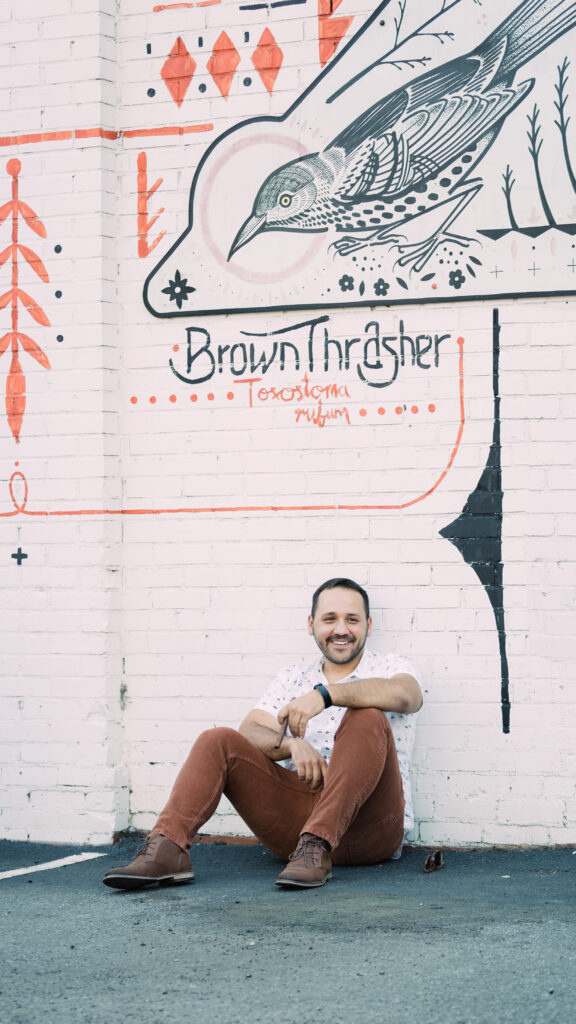 But he knew his skills would serve him well when he decided to join his father at APS Distributors and help launch their new venture, Serino Cigars. "I love cigars and I love branding, and I thought why don't I combine the two, and help my dad at the same time. I tried to take everything I learned at school, and everything from being around the industry when I was growing up, seeing all the packaging and the branding, and really investing myself in this."
Around the time that Carson was graduating from college, Tony had increased his networking, and was expanding his portfolio, having met Omar Gonzalez Aleman, owner of the La Corona factory in Nicaragua. Gonzalez had been factory director for the original La Corona factory in Cuba, and the Serinos realized they had found the right partner to vault them into the premium cigar business.
The first project was a high-end Nicaraguan cigar, Serino Royale, offered in four different wrappers, each with a distinctive blend. The rough outlines were established, but as Carson recalls: "I was there right at the inception. After years of my dad knowing Omar, it hadn't really materialized until right when I came on board. The branding had already been done for the Serino Royale series, and then I started to take over everything after that."
While Carson felt the drive to immerse himself in the entire process from pre-industry to finished product, Tony started out having to learn the cigar business on the fly: "When I started I didn't know the business at all. To this day, I don't get involved with the blending. All my partners and associates, that's what they've done their whole lives. I let them take care of it. My son is more in tune to the different tobaccos and the different blends. I'm a numbers guy, a marketing guy; management and organization. My son has a better taste for it than I do."
Carson's training involved a stint at the La Corona factory, learning the business from the ground up, including how to roll a cigar. His philosophy: "To be a brand owner you have to understand retail, you have to understand the infrastructure of distribution, and you really need to understand your product." Having mastered those aspects, Carson was then in a position to create Serino Cigars' next lines of cigars.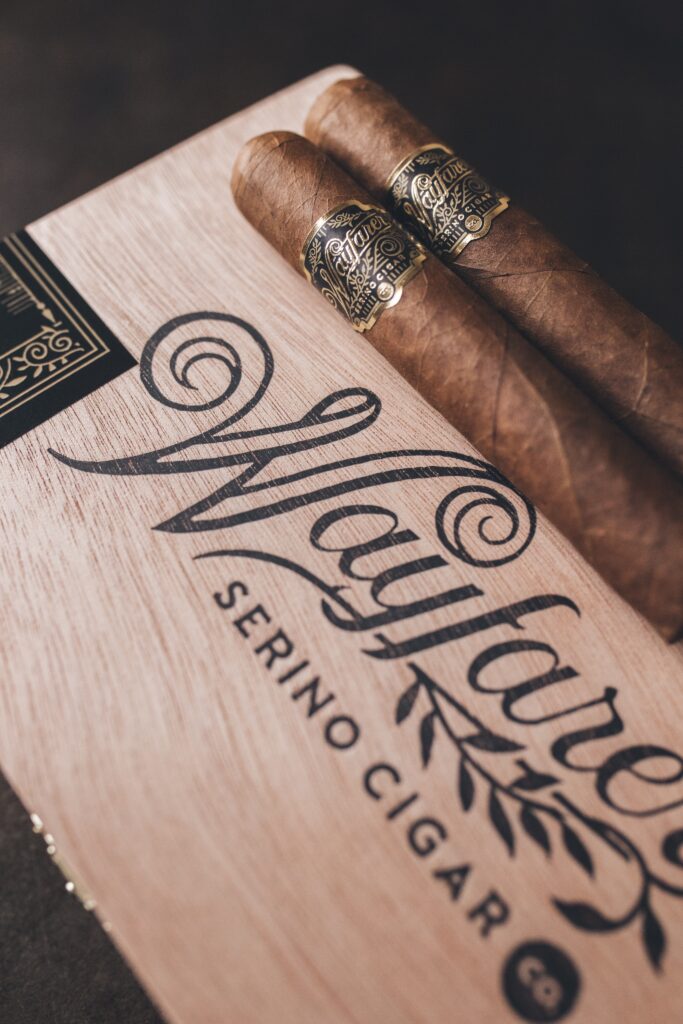 How those other lines developed was a result of Carson's post college experiences. He had taken a year off after graduating to go on a backpacking tour of Iceland. He had left his travel humidor behind and was compelled to smoke what was available, namely Cuban cigars. Smoking exclusively Cuban cigars inspired him to create a new blend, which became the Wayfarer line. The name is derived from his traveling experience, and the blend is his interpretation of the qualities of a Cuban cigar. It's a medium- to full-bodied blend of Nicaraguan fillers and binder, with an Ecuador Corojo '99 wrapper. The blend is intended to capture the balance, complexity and vibrancy of the classic Havana cigars.
The next project in Serino Cigars' portfolio was a joint effort between father and son. Following up on the success of Wayfarer, Carson embarked on reviving one of Tony's established brands, Taino. It had been previously marketed as a bundle, but Carson saw the value of using a pre-2007 trade name, and an opportunity to pay tribute to indigenous people credited with introducing tobacco to Christopher Columbus.
Taino cigars are medium-full, featuring an Ecuador Habano 2000 wrapper, with binder and fillers from the three major growing regions of Nicaragua. It's a blend geared to younger smokers, but can appeal to anyone who enjoys a balance between flavor and strength.
Next up for Serino Cigars is a line extension for Taino. For this iteration, Serino is having the cigars produced by Jochy Blanco, at Tabaclaera Palma in the Dominican Republic. He explains that, while the debut line from Omar Gonzalez of La Corona factory in Nicaragua was everything he hoped for, "The Taino people, which is what this project is documented around, weren't a part of Nicaragua. It was the Dominican, Cuba, Jamaica and then the Caribbean islands. I wanted to have some honesty for our branding and create a Dominican product that highlighted these people."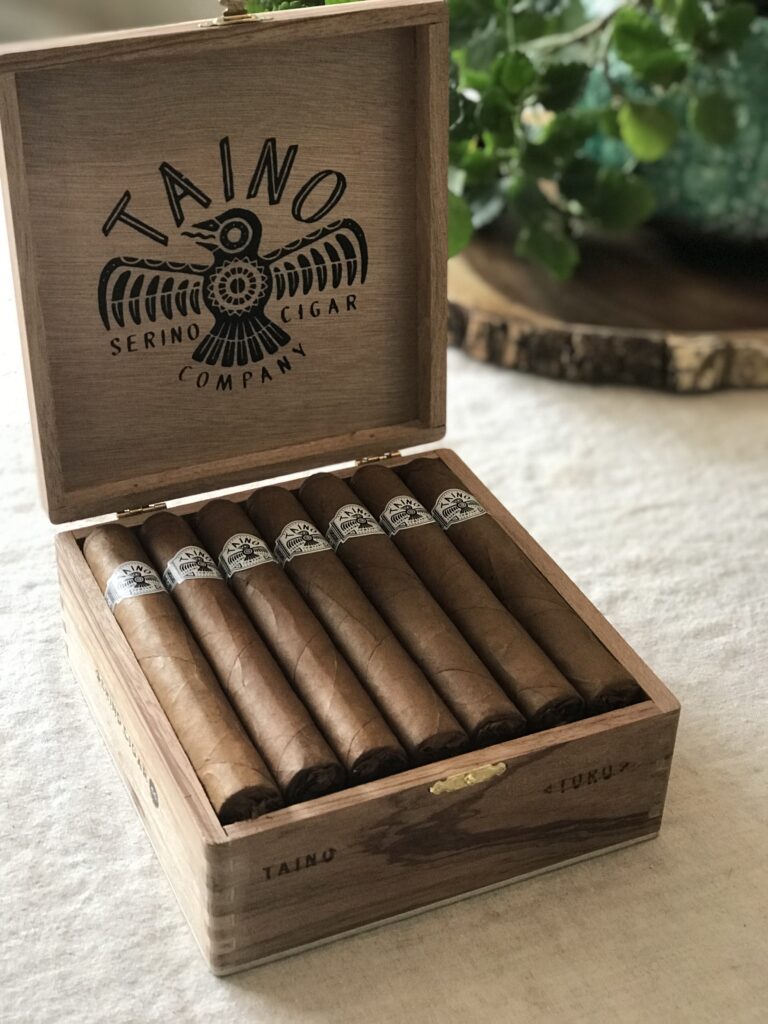 The line will offer a profile similar to the original blend, " … with a bit more muscle to it, a fuller flavor" says Serino. As to why they are currently building up the Taino brand, he adds: "Taino was a brand my dad created, so we can keep extending Taino, even with the FDA. We have a lot of sales and advertising behind it, even way before 2007."
For now, Serino Royale and Wayfarer will remain as they are, but Carson notes, "If we did extend Wayfarer I'd like to do some unique sizes, like a figurado, and keep extending the vitolas, staying within the same formula."
Tony Serino did create one line extension for his eponymous Serino Royale brand, a 9¼-inch x 47 ring Vintage 2012 "A," presented in its own lacquered coffin. Carson explains how it came about: "2012 was a really big growing year in Nicaragua. That's where we pulled the tobacco for our original Maduro XX from. There was only enough tobacco left to make about 150–200 cigars, not enough to roll out a new line from. So it was really good for a line extension." Only 1,000 were produced, and the Serinos often give them as gifts, or as a token of gratitude for retailers who support the line.
Where the father/son partnership will take their premium division from here depends largely on how the Food and Drug Administration (FDA) rulings on substantial equivalence play out. The company is very active in dealing with all the aspects of compliance with any FDA regulations. What is certain: The two generations of Serino cigar men will continue to share a vision of providing both value-priced bundles and ultra-premium cigars to receptive cigar enthusiasts worldwide.
The Serino Cigars portfolio encompasses a wide array of strengths, flavors and shapes, offering something for every type of smoker, from novice to seasoned epicure.
---
THE SERINO CIGARS
SERINO ROYALE The debut line from Tony Serino is a true Nicaraguan cigar in the modern sense: Big, bold flavors paired with a strength ranging from mild/medium to extra full, in today's generous ring gauges. There are currently three variations:
CONNECTICUT A tawny Ecuador Connecticut wrapper envelops a sweet and savory blend of Nicaraguan binder and fillers. The look is deceptive; more medium than mild, this blond bombshell is layered with just enough spice to give it some oomph.
MEDIO The name connotes both the strain of Habano wrapper and the cigar's strength: medium. A full array of spices is topped off with graham cracker sweetness, resulting in both full body and a smooth delivery.
MADURO XX Even the name fires a warning shot across the bow. The Jalapa and Estelí fillers are tucked into a deep, dark and delicious Ecuador Habano Oscuro wrapper. Hale and hearty, this bravura blend melds strength with smoothness.
WAYFARER The wayfarer in this case is Carson Serino, who explored a range of Cuban cigars while backpacking in Iceland, and wanted to bring that experience to the Serino portfolio. The blend of Nicaraguan fillers topped off with a Corojo '99 wrapper from Ecuador replicates the balance and finesse of the great Habanos, and is expressed through a lineup of classic Cuban vitolas.
TAINO This homage to the native people of the Dominican Republic, reputed to be the earliest users of tobacco, is represented in a straightforward package meant to let the cigars tell their own story. A cigar band featuring a stylized indigenous bird symbol showcases a blend of Nicaraguan tobaccos from the three major growing regions, encased in an Ecuador Habano 2000 wrapper. The offering of three sizes, again emphasizing an authentic simplicity, are evocative of classic Cuban shapes. Full flavor and medium body are experienced in equal measure.